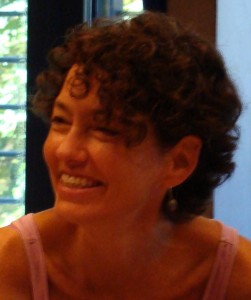 Singer, Songwriter, Improviser
Board Certified Music Therapist
Licensed Creative Arts Therapist
Working theories:
-Body-centered voicework promotes self-awareness and well-being
-Music creates change & enhances life
-Vocal improvisation explores inherent musicality through tone, melody, harmony, rhythm and language
-Singing together builds community and stretches us beyond what we think is possible
BIO
Kate Richards Geller is a music therapist and vocal improviser who is well-known for keen listening, creating safety in a group, facilitating freedom within structure, and supporting personal expression.
Kate earned a master's degree in Music Therapy from NYU in 1997 and then combined her singer/songwriter skills and' joie de vivre' with clinical improvisation to enhance "quality of life" in medical settings, community centers, and therapeutic pre-schools. The core of her work engages people in interactive singing as a bridge to self-expression, communication, and community-building. The focus of her training has included esteemed artists/teachers: Diane Austin, Lisa Sokolov, Renée Manning, Rhiannon, Silvia Nakkach.
In 1996, she began nurturing a community of vocal improvisers in NYC which is still thriving and, since June 2012, she has been traveling across the US and Europe sharing her experiences and training with singing communities along the way. Currently, she is living in the Arts District of Downtown Los Angeles.